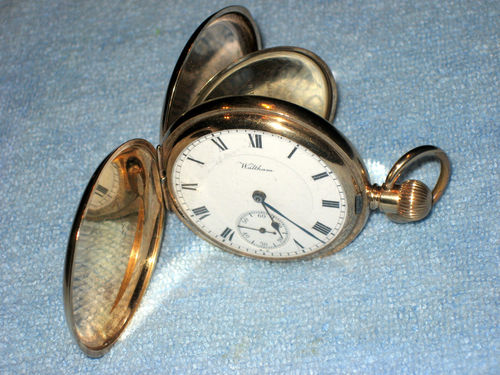 An excellent condition rolled gold full hunter pocket watch by the Waltham Watch Co. USA It will date by the serial number 19397186 to circa 1914.
The good quality case measures 51mm diameter approx, has good hinges with all covers closing well and with a firm snap.
$499.99 Canadian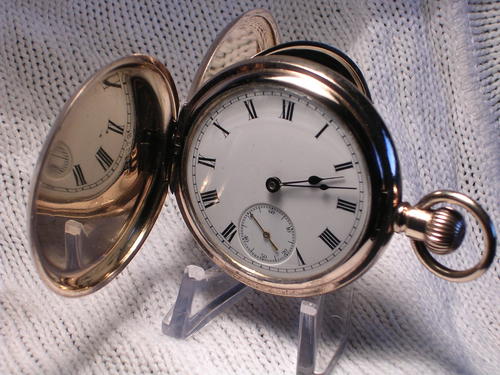 1903 Elgin Hunter Pocket watch, Bond St. 7 jewel. It is free from chips or hairlines. It has lovely fine blued steel spade hands. Winds but not properly.
$499.99 Canadian reduced to $250.00
1918 Waltham Riverside
This watch is stunning and near mint.The Monitor case is stunning and looks new. The crown is crisp and the bow is perfect.The hands are perfect and the numerals are crisp. The double sunk dial is stunning with only one hairline at the 3.
Size 12, Serial 22085494
$399.99 Canadian New!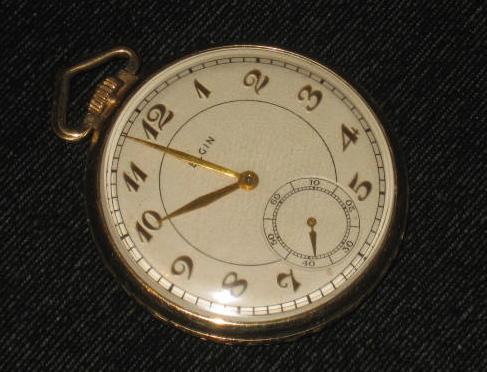 1
943 ELGIN POCKET WATCH,15 jewels, size 16, good condition ,running and keeping time , 44mm diameter, serial number C274332, Grade 546
$299.99 Canadian New!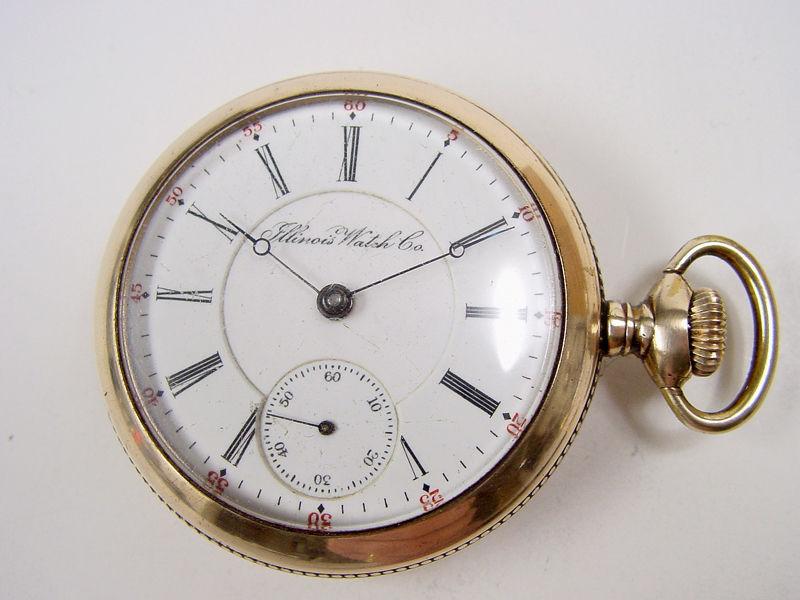 A beautiful, 1905 antique Illinois 18 size watch.
Ser # 1470219, A 15 Jewel, lever set and stem wound movement with stunning crosshatch damaskeening. The double sunk dial is excellent, the crystal has a center scratch, and the case is 109 years old. Shows some wear.
$299.99 Canadian New!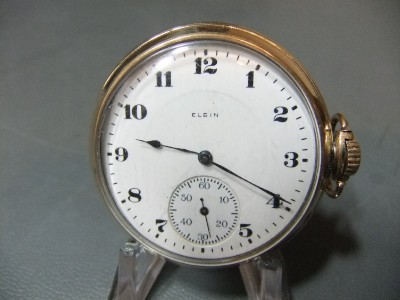 Very nice Elgin watch. Ser #25157402 dates this watch to 1922. 17 jewels and gold filled. Cleaned and oiled. The back of case has a couple dings, but overall this watch is in great condition.
$299.99 Canadian New!